In a world bombarded by variety, it is easy to swap nutrition for convenience. The Força Goa Foundation recently gave parents of the children participating in the Little Gaurs League a practical insight into boosting their young athletes' energy through a wholesome diet.
Nutritionist Wellishia D Sa broke down the components of a healthy diet, and offered tips on incorporating 'unappetising' superfoods into delicious treats for growing children as parents listened with rapt attention in workshops organized in North and South Goa. Post the workshop for parents, the foundation is also organising workshops for children where they are provided with healthy snacks and explained about the different foods they can eat to maintain a healthy diet.

According to US research institute the National Center for Biotechnology Information (NCBI), energy deficits can cause short stature, delayed puberty, menstrual dysfunction, loss of muscle mass and increased susceptibility to fatigue, injury or illness, while energy excess can result in obesity.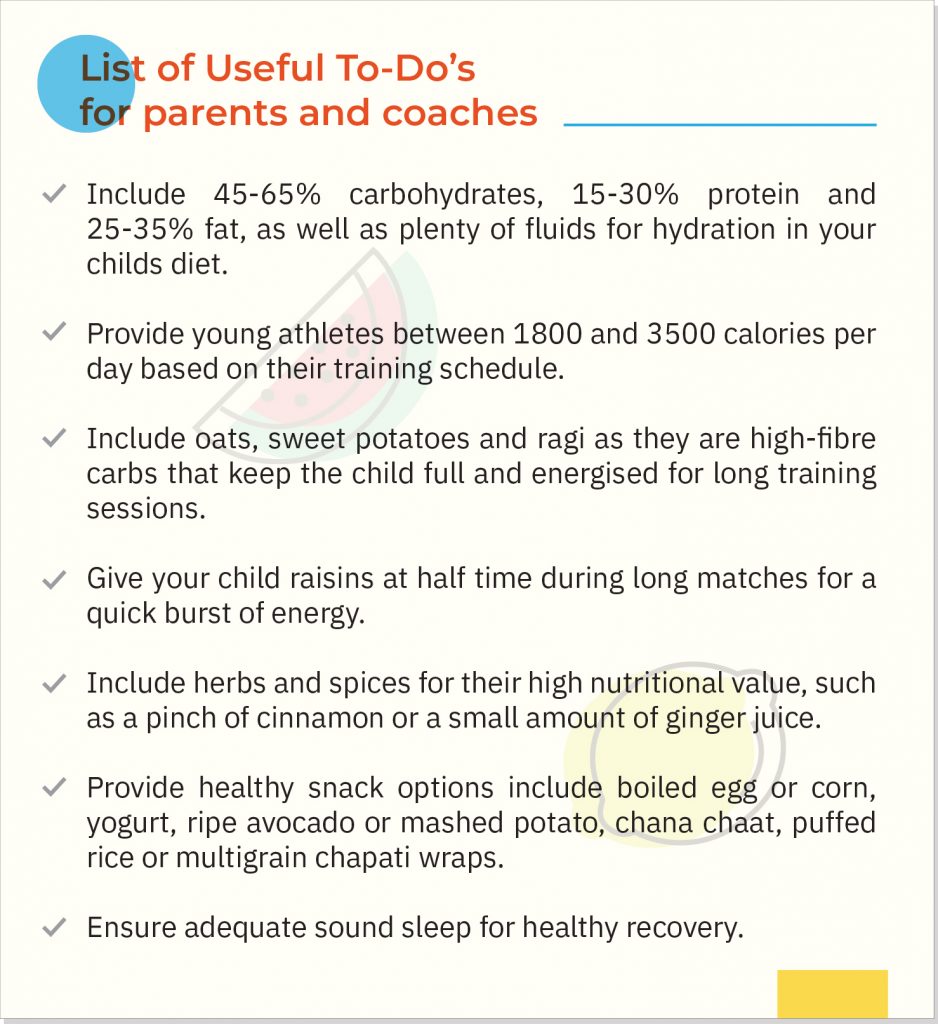 Nutrition workshops by the Força Goa Foundation answered practical questions from parents and coaches on what foods are good for young athletes, when to eat them, how to eat before and after matches, and how to adequately replenish nutrition requirements after vigorous activity.
Focusing on the demands of growing athletic bodies, Wellishia D Sa suggested that an ideal diet for young footballers comprised 45-65 percent carbohydrates, 15-30 percent protein and 25-35 percent fat, as well as plenty of fluids for hydration.
"Young athletes require higher nutritional inputs compared to non-athletes who play informally and without training. For girls in particular, it is essential to focus on consumption of iron, calcium and Vitamin D as they hit puberty to avoid facing low hemoglobin levels which cause performance delays," she pointed out.
Meal prep was a focal point of the workshop, indicating that prior planning could help build a balanced diet through food items that children enjoy. D Sa explained how to calculate calories from macronutrients – fats, proteins and carbohydrates – on food labels, and threw in useful examples of foods that offer a combination of these components such as dairy, nuts and seeds for proteins and fats, or beans and legumes for carbohydrates and proteins.
Janice Homem, whose seven-year-old plays in the Little Gaurs League, said, "The tips to marry proteins and carbohydrates were fantastic. My child naps for long hours in the afternoon, and foods with combo macronutrients will offer enduring energy rather than the instant spike and crash from carbohydrate-rich snacks."
Additionally, D Sa emphasised consistency in good nutrition, with the odd cheat meal as a treat. With the physical demands of football, 5-6 well-balanced meals a day are required regularly for good performance and quick recovery. Young athletes, she said, need to consume between 1800 and 3500 calories per day based on their training schedule with lots of grains, 2-3 cups of vegetables and 2-3 servings of fruit for vitamins and minerals, meat and beans for proteins, and minimal oil intake.
Through the workshop, parents were better able to understand how nutrients work to serve the needs of their growing athletes at various points of their training and match schedules. Oats, sweet potatoes and ragi were offered as examples of high-fibre carbs that release energy slowly, keeping the child full and energised for long training sessions, while quick release foods such as raisins provide a burst of energy ideal at half-time during matches.
A multitude of options was provided as pre-game and recovery snacks with tips on including herbs and spices for their high nutritional value, such as a pinch of cinnamon masked in a dark chocolate smoothie, or a small amount of ginger juice blended inconspicuously into a glass of fresh fruit juice.
Janica Pereira from Bastora, whose son plays with the FC Goa Soccer School, found this one of the most useful points of the workshop. She said, "I have learnt practical tips for pre-match and post-match nutrition, as well as information on various foods that help with things like tissue repair which I previously had no idea about."
Parents were also cautioned about convenience food and offered alternatives that were appetising for young children. For example, batata vadas or samosas can be switched with boiled egg or corn; yogurt, ripe avocado or mashed potato can substitute for mayonnaise in club sandwiches; chana chaat or puffed rice is as delicious as the unhealthier sev puri; and multigrain chapati wraps can stand in for the ever-loved cutlet pão. Sago porridge with honey, moongache godshe, dry fruits and bakhri laddoos were offered as dessert options, with fresh fruit juices and home-made smoothies the ideal swap for carbonated and sweetened beverages.
Wellishia D Sa wrapped up the workshop with salient tips on eating mindfully – helping children understand why they should eat healthy food, focusing on what they're eating at meal times rather than on gadgets, taking time to eat their food, and eating healthy food together as a family since parents are seen as role models. She also touched on the importance of adequate sound sleep for healthy recovery, the value of buying seasonal produce and where to find them, and responsible disposal of kitchen waste.
The workshop was well-received, and there was hope that picky youngsters would welcome new dietary changes. Aditi Jain from Caranzalem said, "My son swims and plays football, but is a fussy eater. We are also vegetarians so our options are limited. But through the workshop, I now have a few options for evening snacks for him like cheela and sandwiches."
After all, food is fuel for growth and good nutrition brings great results.