This series explores stories of future stars of football – individual players, teams, coaches, and their exciting and passionate journey of football, seen through the lens of the Forca Goa Foundation at the Little Gaurs League.
Kurth Dsilva
Kurth Dsilva has a great role model in his father – an ex-captain of the Goa Basketball team and a national level athlete. His older brother, Kayden plays as a goalkeeper for his school team. With such role models to follow, Kurth started playing football at the age of 4.
A diehard fan of Cristiano Ronaldo, Kurth spends almost 4-5 hours with his football daily. He loves to score goals and tackle opponents during matches. A team player, he gets along with everyone on the pitch. His dream is to play for the FC Goa team someday!
He was extremely happy on winning the award for the Most Promising Player for his amazing performance in the Orange Squadron YFA team. After playing in the league, his parents also feel that he has emerged as a better player. We hope this talented young footballer keeps on achieving all his dreams and we can't wait to see him back on the pitch next season!
Christy Nunes
This is the story of a parent who wanted to fulfill her child's wish of playing in the Little Gaurs League. Christy Nunes is the mother of Chris Nunes, a passionate young footballer who wanted to take part in the league. As they did not have a team, Christy took charge. She assembled a team, got them registered, found a coach and without even realising she became their team manager. Let's take a look at her journey.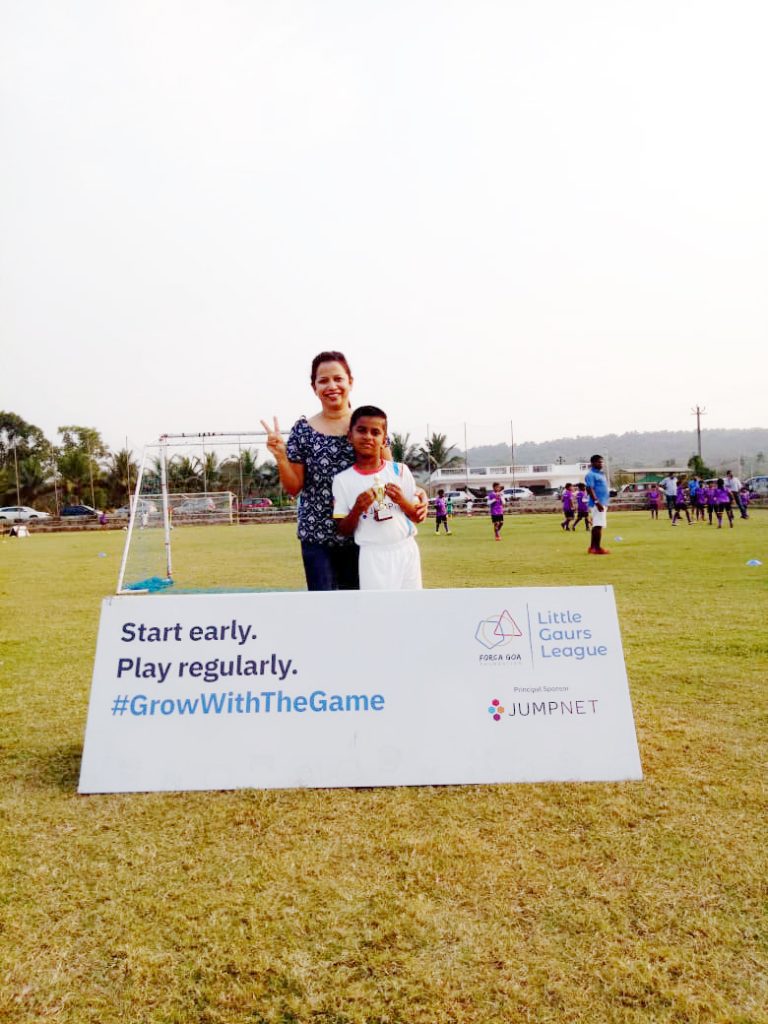 Christy's first task was to assemble a team. It was not as easy as it sounds. The search for players started from the football coaching academy her children attended. But sadly, there were only 2 Under 8 children enrolled there. She also spoke to a few coaches whom she knew but that didn't prove to be fruitful.
Finally, she went to Sharada Mandir school. Most of the children who had played football had already enrolled for the Little Gaurs League. The ones that were remaining had little to no prior experience of the game. She wasn't sure how the team would perform given that they had no coach and all the players were new to the game, but she couldn't let her son down. She took the chance and got the players registered. Thus, the Sharada Mandir team enrolled in the Little Gaurs League U8 category.
However, the team was playing together for the first lacked training experience initially – which was crucial as they were playing together for the first time. As a result, they lost the first 3 games of the league. The kids were super disappointed. Christy spent a lot of time and energy to search for a coach who would take up this challenge. After searching for a while, they managed to get Coach David on board.
From then, there was no looking back. The children practiced regularly with Coach David and the turnaround was impressive. They started winning matches making the players happy and confident! The Sharada Mandir team finished 4th in the league and Christy recalls how satisfied she felt.
"The biggest inspiration and reason for me to create a team and participate in the league was my son Chris who walks, talks, eats, and dreams football" says Christy.
Christy is thankful to all the people who supported her during this experience, especially Hemant and Caliston from the Organising Committee of the League. She feels that the support she received from them and the parents was vital in this journey.
We are in awe of such parents who support their children's dreams. Christina had started because she wanted to support her son and she ended up giving a whole team the opportunity and the platform to play, develop, and #GrowWithTheGame.
Vivaan Furtado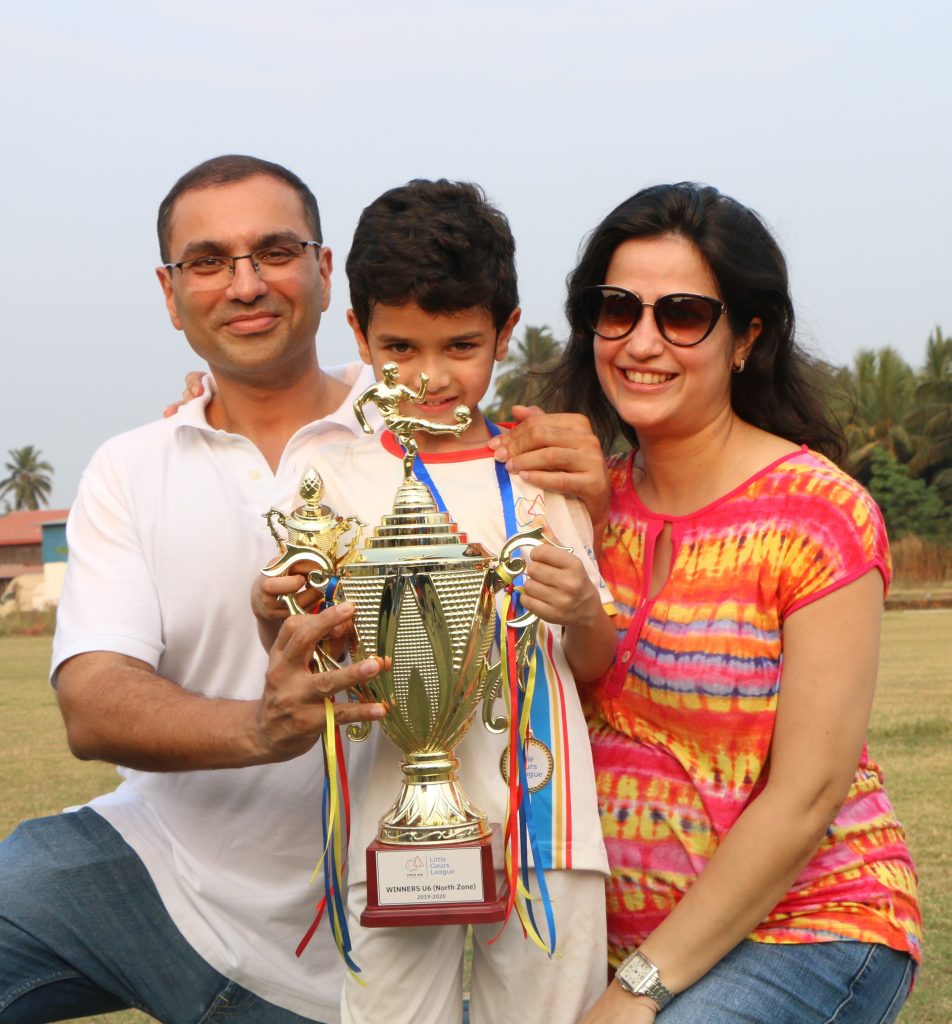 Vivaan Furtado, a part of the U6 Play Goa team, was a star of the Little Gaurs League! His maternal grandfather was a Salgaocar sports club stalwart and this young footballer is all set to follow the same path. He started playing when he was 4 years old and his parents are fully supportive of him following his dreams!
Vivaan helped his team win many matches securing a spot at the top of the table. Apart from being the 2nd highest goal scorer in the U6 category, his excellent performance also earned him the Player of the Tournament award. His parents recall how happy he was to receive the reward and are proud to see him do so well on the field.
The LGL was Vivaan's first experience of a competitive tournament. His parents tell us that he was thrilled with the opportunity and encouragement he received. His mom and dad have also noticed a boost in his confidence through the experience. He has learned that hard work and focus can take him to great heights. We are glad to see this young footballer has taken back so many learnings through his experience in the league and hope to see him back on the field next season.
Want to read more stories of our future stars of football? Take a look here.