This series explores stories of individual players, teams, coaches, and their exciting and passionate journey of football, seen through the lens of the Forca Goa Foundation at the Little Gaurs League. 
Tiny Goals Academy
Tiny Goals Academy was started in Cansaulim by Coach Cady Furtado in the year 2019 with the aim of having training sessions for kids in and around Cansaulim. The academy kicked off with a free camp during the Diwali vacation to try and build the interest of the community in football. The main goal was to focus on developing grassroots football in the area by training kids under the age of 12 years. The camp was free of cost to all children and they registered around 60 kids. Children were provided with daily refreshments and were awarded certificates at the end of the camp.
In January 2020, Tiny Goals Academy registered teams for the Little Gaurs League in Vasco. Their training had had such an impact on the students that most of them were eager to play again and compete. They were able to field a team in each of the 4 age categories, thus, giving a chance to all the students they trained in their camp. Coach Cady Furtado says he is happy that the kids got a chance to showcase their talents and play regularly. Each match was a learning experience irrespective of whether they won or lost.
The Academy did itself proud by deservedly winning 2 trophies. Their U12 girls' team ranked 1st in the league while the U8 team ranked 2nd in their league. Joywin Silva was the joint top scorer in the U10 category while Vinoshka Fernandes boosted her team's results by being the top scorer in the U12 category scoring 6 goals in 4 matches. Cady was happy with the success and hopes to see the children play for big clubs in the future. While he has received suggestions to register the academy as a club, currently he just wants to continue with their training camps and return to the Little Gaurs League once we all overcome the Covid-19 pandemic.
Chris Nunes
Chris Nunes started playing football when he was 5. The love and passion for this game came from his father and elder brother who also love playing football. Chris likes to score goals and dreams of becoming a professional football player. We believe he is going to achieve his future dreams as he practices football on a daily basis for 2 hours.
Chris played for the Sharada Mandir U8 team in Little Gaurs League 19-20 season. He was the top scorer for his team. Chris played outstanding football and showed improvement in every game he played; making him grab the Best Player award in the U8 category. His parents were happy with the way he played in the league and glad that he got a chance to participate in a professionally organized tournament at such a young age.
"Chris understands the importance of receiving an individual award and it means that he is an exceptional player and one of the best in his team", says his mom. His performance in the league was further recognised as he was selected for the Centres of Excellence
We hope to see more of this future star in the years to come!
Soham Mane
Soham Mane is an upcoming young footballer who wowed us with his talent during the Little Gaurs League. Soham's dream is to play for the national team someday. He also wants to play for an international team in the future and meet his idol, Cristiano Ronaldo. According to his mom, this young star wants his idol to see him play and will not be satisfied unless Ronaldo himself appreciates his game.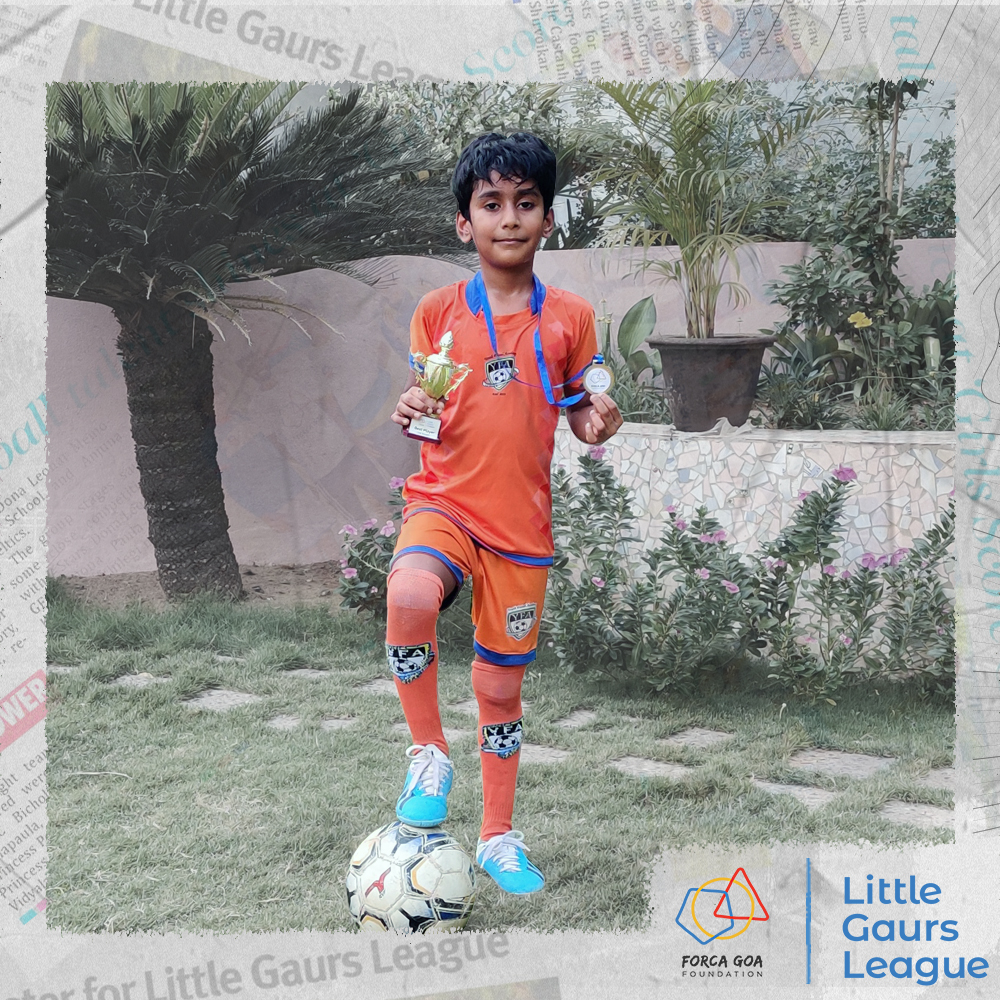 Soham feels that there is always room for improvement when it comes to football, he watches YouTube videos of footballers to know about their diet, their workout regime, and their football techniques.
Soham was 2 years old when he saw some boys playing on the street and learned about football. He soon started to play with his neighbours and by the age of 5, his parents had enrolled him at the Youth Futsal Academy (YFA). Soham is always thinking of how to get better in football and spends almost 3 hours every day, working on improving himself. His parents are delighted with the way he has worked on his skills and feel he is on his way to becoming a great player.
When he took part in the Little Gaurs League for the YFA U8 team, his parents were happy to see him experience regular competitions against so many teams. Soham showcased great skills in the league and scored 12 goals in 10 matches. Not only did he help his team top the league table with 27 points, but he also received the Best Player Award in the U8 category for his performance.
If he's shown this much dedication to the game when he's 7 years – imagine the heights he'll reach when he will be 20! We are glad to be a small part of this young talent's journey.