Kiran Niketan is a school for underprivileged children in Zuari Nagar, Sancoale. While the school has recently refurbished its small sports ground with help from a local funder, the students do not have access to sports coaching. Working with the teachers and Sister Berna, who is an extremely supportive and passionate principal of the institution, the Foundation has designed a program for the school to inculcate sports in their students' lives. Under the programme we are providing the school with
football training for the children based on the skill and age levels
a community coaching programme for individuals to become coaches
life skills training for the children (workshops on nutrition, sustainable practice)
While our long-term goal is to see improvement in the discipline and social skills of the children, the first and foremost reason to conduct such a programme is for children to enjoy playing sports and become active. We want Kiran Niketan to be a shining example of how the overall well-being of children correlates with playing sports regularly and this we believe will encourage other schools to start sports training for primary children as well.
The programme currently has 120 children from ages 6 till 10. We have 2 D-license coaches – Coach Yash and Coach Godwin, training the children. Since the kids at the facility are relatively young, our coaches focus on teaching them the basics of football. They focus on dribbling, fitness, passing, positioning, ball control and shooting. We have also had sessions on nutrition and waste management for the kids.
Each session is 1.5 hours long and starts at 8 in the morning. Students train once a week. 1st and 2nd graders attend sessions on Mondays, while 3rd and 4th graders attend sessions on Wednesdays. After the training, the coaches provide a short briefing on the entire session and then the kids head straight to their classes.
With more than 45 girl participants, the programme has a better boy to girl ratio than some of our other initiatives. However, our prior experience indicates that girls are more excited about training under female coaches and even pick up skills more enthusiastically. Keeping this in mind, we want to empower some of the teachers of the school to learn aspects of coaching that will help us achieve this objective.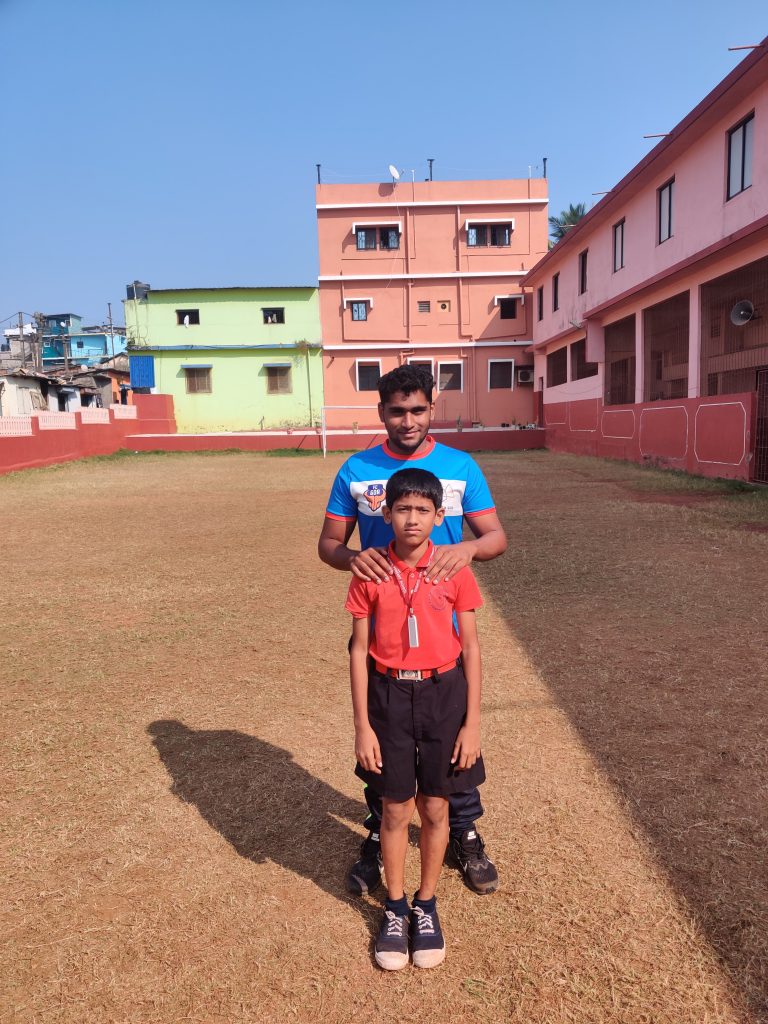 The principal, Sister Berna feels that the programme is a great initiative for the children and is one of the reasons children come to school in huge numbers. Even the teachers who help out with the sessions are very supportive of the kids and feel that the kids are gaining a lot from our program. Sister Berna has also shown interest in sending one of her teachers to our Community Coaching Programme.
A highlight of the programme is the discovery of a naturally skilled boy who was scouted by our grassroots coach, Yash. Mohammad Anas was recently introduced to football and has now been selected by Coach Yash for the team he has fielded in the Little Gaurs League. In spite of him being a newcomer, Yash saw his potential and took some time to show him where he was going wrong and how he could improve.
In his debut match for Twinkling Stars, the team was losing 1-0 to Marina FC. Anas stuck to what his coach asked him to do and made simple passes. Five minutes after receiving the ball, he squared it over to the midfielder and the team scored. Participating in the league has helped him improve not just on the pitch but off it as well. His teachers have noticed the development in his communication skills and he has a higher confidence level now. Anas' father is thrilled to see his son playing so well and has big dreams for him, hoping his son makes a career in football.