FC Goa Co-owner and President, Akshay Tandon was recently in an interview with Star Sports commentator and presenter Anant Tyagi. They discussed various topics around ISL and Indian football including the work done and vision of the Forca Goa Foundation.
Akshay, who is also the Founder and Non-Executive Chairman of the Forca Goa Foundation, explained how the organization started. He talked about having a separate think tank for grassroots and creating technical knowledge as well as initiating our own leagues.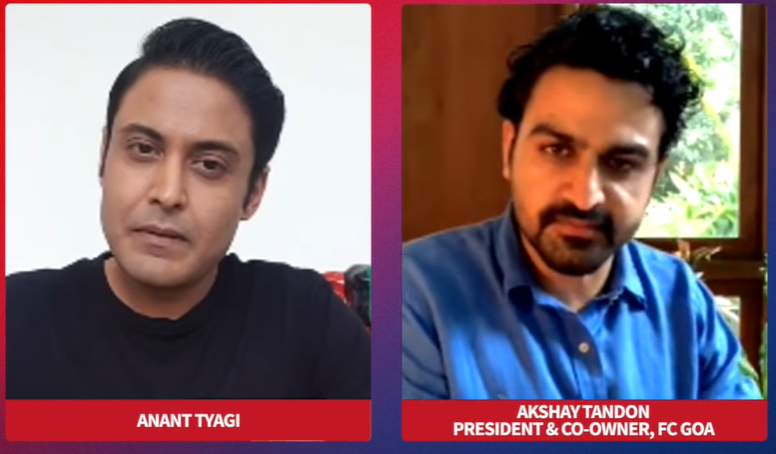 Vision of the Foundation
The Forca Goa Foundation wants to try and plug the gaps in the grassroots ecosystem of Indian football. The goal is to use the initiatives built in Goa as a model for others to replicate. To that effect, Akshay mentioned that the Foundation is planning to launch a fellowship program for coaches from all over the country. This will allow coaches to learn and gain knowledge about how to create a footballing ecosystem. They can then replicate this model in their own states with guidance from the Foundation.
Akshay also highlighted the big gaps that need to be filled; co-ed grassroots training, good coach education and better infrastructure. The Foundation's objective is to address these gaps and see what it could do to fill them within the Indian footballing ecosystem.
Importance of Community Engagement
Answering a fan's question – "What is stopping India according to you from becoming a powerhouse in world football and what FC Goa can do to improve or overcome that?", Akshay used the Forca Goa Foundation as an example. He stated that we need to transition to sustainable models; where the community drives support behind not just the clubs, but also the leagues, the state associations. Football itself needs to drive that support. This happens at the grassroots level with more and more communities getting involved, which is where the Foundation acts as a stepping stone in the right direction.
Akshay also stressed upon the work done by the Foundation with respect to Women's Football. Working with girls from the ages of 6 to 12, the Foundation has been advocating the need to make the sport an equal playing field. By doing so, the Foundation has been planting seeds to provide opportunities for the girls to make it into the clubs' youth teams in the years to come.
Read more about the Foundation's work.
You can also watch the full interview here.